15 Simple Tips for A Successful Landing Page Design Process

Jul 10 2023
Landing pages are more important in today's competitive digital marketing environment because of their ability to attract visitors, encourage conversions, and increase revenues. A landing page's ability to persuade visitors to take action depends on how effectively it is designed and how easy it is to use. You can rely on any best landing page builder tools for this.
However, in this article, we will explore 15 simple tips and best practices for a successful landing page design process, discussing the benefits of an optimized landing page template and highlighting its main features.
Landing Pages—What are They?
A "landing page" is a webpage designed for advertising or promotional purposes. The page a user lands on after clicking on an Instagram, Facebook, or similar advertisement. Landing pages are intended to fulfill any promises made by the business.
In essence, it is the phase of the sales funnel that occurs before a visitor becomes a client. You can collect contact information from visitors on your landing page in exchange for products, services, discounts, or other incentives.
Both landing pages that generate leads and those that direct visitors to another page (such as an online store or web form) are viable options. In exchange for contact information, landing pages that generate leads typically offer an e-book, webinar registration, or contest entry.
A landing page's purpose is to persuade potential customers that it's worth their time to provide their confidential information in exchange for what you're offering. A potential customer is more likely to discover your landing pages through paid advertisements and organic search results.
Experts in marketing frequently recommend that you increase the number of landing pages and maintain the variety of pages aimed at various consumer segments.
Functioning of Landing Pages
There are many examples of landing page templates, and page formats which are available online. However, if you know the landing page templates' nuances, you can create landing pages that are well functioning.
Technically, most landing pages are an uncomplicated exchange of information. You have something your visitors desire (such as a discount), and they offer their contact information, which you want.
Once they arrive at your landing page, your ideal visitor will follow these instructions to convert to a lead or customer:
The site visitor takes action in response to the call to action and fills out a form.
In exchange for receiving your offer, you are given the visitor's contact information.
A visitor should be provided with your offer immediately after clicking your call to action or filling up the form, either on the website they visited or in their email.
By getting rid of the navigation and focusing visitors' attention on the choices on the page, you make it more likely that they will browse and learn about what you have to offer and eventually buy from you.
Landing pages are somewhat more complex from a functional standpoint. The "Rule of One" in copywriting is a framework for writing that can be used to create a good landing page that is straightforward yet effective. It states that your landing page's emphasis should be on the following:
One landing page for each campaign
One specific offer for a landing page
One major advantage per offer
One key concept per primary benefit (one solution per issue)
One particular demographic per key concept
Reasons Why Successfully Optimized Landing Pages Are Necessary
Still doubt the effectiveness of landing pages for lead generation boost conversions, and marketing? Here are six persuasive arguments:
1) Generate Leads Easily
Using landing pages on your website would be the single most effective thing you could do right away to enhance your lead generation efforts. The majority of businesses direct people who find them via email, social media posts, or search engines straight to their home pages. You may be able to get these leads much more quickly by directing them to focused landing pages. Using landing pages, your sales staff can quickly produce leads that can be easily sorted and taken care of.
2) Give Offers a Notable Space
Marketing offers and a good landing page go hand in hand. Your efforts to generate leads will be rendered ineffective if your offers are not gated behind good landing pages. The concept is to provide beneficial content, like an offer, in exchange for website visitors' contact information. Your landing page is the tool you use to get this information.
3) Collect Demographic Information
When a visitor to your landing page fills out a conversion form, your marketing team gains more information about that lead. Your sales team will have a foundational understanding of a potential customer before approaching them, thanks to the data your marketing team can utilize to identify the types of visitors who are converting.
4) Determine Which Leads are More Engaged
You can track the re-conversions of existing leads using landing pages, which you can use to determine which prospects are more interested in your company. Landing pages allow you to generate new leads as well as track the re-conversions of current leads. As a result, you may gather more accurate information on the actions and behaviours of your prospects on your website, information that your sales staff can utilize to help close more deals.
5) Provide Data for Other Marketing Channels
An effective inbound marketing strategy is dependent on content and the masses of it. Landing pages are an excellent piece of material for any marketer to invest in because they can be promoted on social media, utilized as the subject of email advertising and lead-generation campaigns, linked to in PPC advertisements, and found using organic search.
6) Offer Information on the Effectiveness of Your Marketing Offers
Your marketing program gains a new data asset when you develop a landing page. You may learn a lot about how efficient your marketing is by tracking and examining the data related to your landing pages. You may compare the effectiveness of different layouts for your various marketing offers, for instance, and observe how visits and leads are evolving over time. This provides helpful information that can aid in the optimization of your marketing strategy.
Landing Page Design: Best Practices
Typically, design involves originality, colour, and attractive images. We define design more specifically for a landing page in order to denote functionality, effectiveness, and directionality. Therefore, to design an effective landing page, you must utilize both sides of your intellect. To convert your visitors, you still need top-notch graphics and appealing colours.
We will discuss how to implement all of these landing page best practices:
Landing Page Structure
The good thing is that you don't have to go too inventive here. The structure of the vast majority of landing pages is relatively similar because it has been proven to be efficient. Stick to the format of a good landing page design that consumers are accustomed to seeing, but inculcate your uniqueness through branded components and photos.
Five elements comprise a successful landing page.
Attention-grabbing headline
An appropriate image that is pertinent to your target audience
Lead form placed above the fold to capture visitor information
Call to action that is compelling
Copy and a description that persuades your visitor to fill out your form and provides the necessary information to them
Landing Page Layout
It may come as a surprise, but the majority of individuals do not read every word of your cleverly-written copy. Instead, they peruse and extract the most pertinent information. You have to highlight these features so that your visitors don't miss anything crucial.
The most crucial details should be visible above the fold, without the user having to scroll down the page.
Test your page with a "blink test," in which a reader should be able to grasp the main point in less time than it takes them to blink.
Utilize white space to keep your audience engaged, focused, and to aid in message comprehension.
Use bullet points and short paragraphs to make your writing easier to read.
The majority of online users read pages in an F-pattern, therefore try to incorporate the crucial copy into this pattern.
Utilize visual flow to guide viewers to the informational elements that will convert them.
Colours of the Landing Page
Your landing page's design, including its colour scheme, should reflect your main website. Visitors to your landing page must be accustomed to your branding's distinctive colours and style if you hope to establish a long-term relationship with them.
They will trust you more as they become more familiar with your brand because doing so will make it easier to persuade them to act in the way you want. Consider using alternative colours on your page's elements to make it stand out. This works best for the call-to-action button.
Landing Page Images
Your landing page's image is one of the first things visitors see, and because the human brain processes images much more quickly than text, it affects how they perceive the rest of the site. Consider the demographics of your intended audience.
Your target audience must be represented in some way for it to be appealing. Equally essential is the placement of the image. Consider using an image that draws the visitor's attention to the form if you want them to complete it.
Each component of your landing page has a significant function. Your image should help the visitor understand what to expect from your website. So, ensure that your image contributes value.
15 Crucial Components of High-Performing Landing Pages
If you want your website visitors to become leads or customers, you need a fantastic landing page. It's the first impression potential customers get of your company, service, or product and it has a powerful effect on sales.
These 15 great landing page design tips cover everything from design to content optimization and will help you get the most out of your landing page builder and landing page best practices.
1) Clearly Define the Goal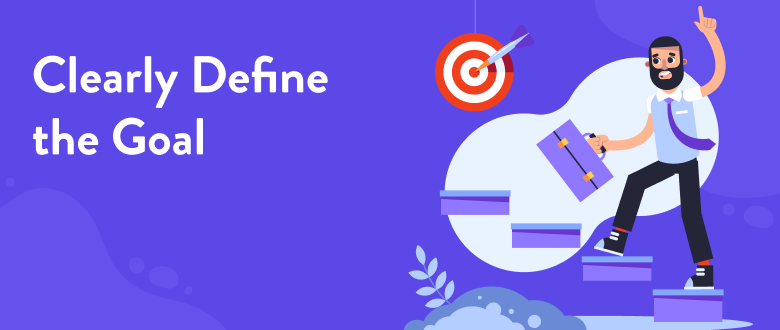 Before designing your landing page, establish a clear goal. Decide if your goal is to increase sign-ups, advertise a product, or generate leads. Defining a specific objective will guide the rest of your landing page design and creation process.
2) Maintain Simplicity and Focus
Regarding landing pages, simplicity is paramount. Avoid excessive information and congestion. Maintain a simple design and emphasize a single CTA. Remove superfluous distractions to ensure that visitors remain focused on your conversion objective.
3) Create a Catchy Title
A catchy headline will persuade readers to click through to find out more. Communicate the benefits of the item or service you are selling in a clear and straightforward manner. Highlight benefits or solutions that solve the pain points of your target market or audience. Furthermore, it needs to sound like a heartfelt conversation.
4) Engaging Visuals
When designing landing pages with a high conversion rate, it is important to include images that are both visually appealing and intriguing to convert visitors. These images could be high-quality photographs or videos that illustrate your value proposition. Visuals have the ability to attract visitors and communicate information more effectively, which in turn increases engagement and the likelihood of conversion.
5) Hassle-free Navigation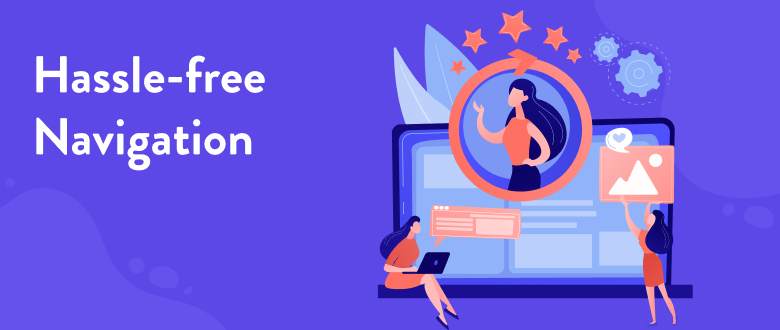 Ensure that the landing page is clear and easy to navigate. When a visitor comes to your website, they should be able to easily and quickly locate the information they require. Improve the readability of your web pages by including clear titles, subheadings, and bullet points. This will help users navigate through the text more easily.
6) Make It Mobile-Friendly
As more and more people use mobile devices, mobile optimization is essential. To ensure a seamless mobile experience for all your users, test your mobile landing page example across multiple devices. Make sure the page responds to different screen sizes and looks good on all of them.
7) Use Strategic CTAs
Place your call-to-action (CTA) prominently and use compelling language to encourage visitors to take action. Make the CTA button stand out by utilizing contrasting colours to give it visual distinction. To increase conversions, use phrases that require action and instill a sense of urgency.
8) Implement Trust Indicators
Build trust with your audience by using important elements, including trust indicators such as client logos, or trust badges. These elements enhance credibility by building brand awareness and reassuring site visitors that your product or service is reliable and trustworthy.
9) Clear and Concise Copy
Write copy that is clear, succinct, and focused on the benefits it offers in order to effectively express your message. Make sure you speak in a way that is simple and straightforward. Bring attention to the aspects of your product or service that set it apart from competitors, and answer any concerns or objections raised by potential customers or buyers.
10) A/B Testing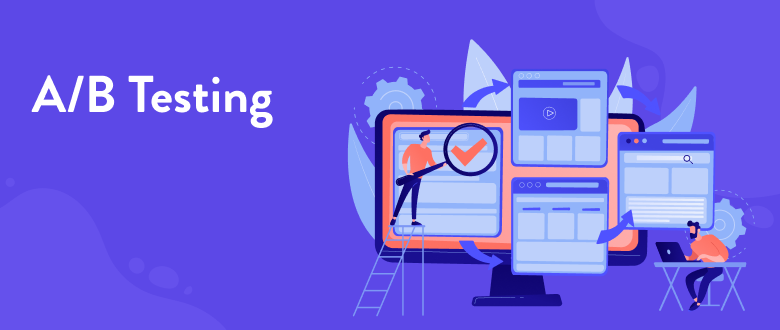 Perform A/B testing to optimize your high-converting landing pages and their performance. Experiment high converting landing pages with different headlines, visuals, CTAs, and layouts to identify what resonates best with your audience. Continuously analyze and refine your many landing pages and page best practices to improve conversion rates.
11) Optimize Loading Speed
To prevent visitors from leaving your landing page form or losing interest, make sure your landing page loads quickly. Optimize image sizes, leverage caching techniques, and minimize unnecessary scripts or plugins that build landing pages to enhance loading speed.
12) Streamline Form Fields
If your landing page includes a form, keep it short and only request essential information. Reducing the number of form fields on an effective landing page can lower barriers to the conversion rate and increase the likelihood of form completions.
13) Implement Social Proof
To increase conversions and foster credibility and confidence among potential clients, incorporate social proof components like ratings, client testimonials, or case studies. Increase the likelihood of conversion by emphasizing success stories and showcasing how your good or service has helped others.
14) Implement the Best SEO Practices
To increase organic visibility, search engine optimization of the copy on your landing page is something you should do. Carry out some research on keywords, and then incorporate the keywords that are relevant into the content, headings, and metatags of your landing page copy. This can help the website to enhance the amount of organic traffic that comes to your landing page as well as its rating in the search engines.
15) Assess and Monitor Performance
Utilize web analytics tools to regularly monitor the efficacy of your landing page. Track important metrics like conversion rates, decline rates, and engagement. Utilize these insights to identify development opportunities and implement data-driven optimizations.
Why You Should Track Landing Page Metrics?
The last point, however, calls for a particularly in-depth discussion. The success of your landing page may be measured and analyzed through the use of metrics, which can also provide helpful feedback on how to enhance the page.
When launching a page, it is difficult to predict what will work. In the beginning, you should meticulously measure and track your metrics until you achieve a high conversion rate, at which point you can track them less frequently.
How many users visit your landing page? The greater the number of visits, the greater the likelihood of conversions. To increase traffic to your page, try modifying your paid plan or revising your keyword list. Additionally, you can use your website, social media accounts, and email to let your current followers know about your promotion.
Knowing the source of your traffic will allow you to determine where you should increase or decrease your efforts.
That's how many folks make it to the "thank you" page after filling out your lead form. You may make a lot of changes to your page to raise this number but always run an A/B test first to find out what is most effective.
This is less a metric and more a comment about how people use your page. Heat mapping enables you to see how users interact with your page, where they scroll, and what they read. All of this information is beneficial when considering page layout and structure.
If people are arriving at your page and then departing right away, you need to check to see if the content is in line with the offer. When a visitor lands on your page, does your copy immediately grab their attention and direct them to take action to the point? Regular monitoring of these metrics and implementing solutions can reduce the bounce rate.
Contacts represent the number of leads that your form generated. This is distinct from submissions because each contact is counted just once, even if they fill out your form more than once in order to receive your offer.
This metric indicates how many individuals begin but do not finish filling out your form. A few things to think about if this figure is high are reducing your form size and making it clearer to your visitors what you want them to do.
To determine if your landing page is performing as anticipated, you must compare it to industry standards and a comparable audience. Utilize industry benchmarks as your starting point, but don't be discouraged by the results of other companies.
If you kept a watchful eye on the data, your landing pages can be kept updated in a better way.
To Sum It Up
Design and copy, optimization and tracking—all must be thought out carefully for a landing page to be successful. Improve your landing page's efficacy and click-through rates by applying these 15 design tips.
To attract visitors, your landing page must be well-written, simple to navigate, and mobile-friendly. Create attention-grabbing headings and body copy, the position calls to action (CTAs) strategically, and sprinkle in trust indicators and social evidence. Maintain peak performance of your landing page by regularly testing, analyzing, and improving it.
Keeping these guidelines in mind will help you design effective landing pages that bring in more customers.